Ecuadornews:
The trade agreement with the European Union (EU) starts on Tuesday, January 1, 2019, its third year of validity. The treaty contemplates a new process of reduction of tariffs for several imported products of massive and industrial consumption. Vehicles, sunglasses, medicines, dairy products, perfumes, detergents and other items will have a new tariff reduction.
The multipart agreement, which includes 28 EU countries, impacted 2,556 items (products or product groups), which are offset at different rates. The first year, for example, the tariffs paid for liquors were eliminated. In other articles, on the other hand, taxes are progressively reduced.
Thus, categories such as chocolates, candies, confectionery, soy sauce, baking powder have three years of tariff reduction. These inputs will enter this year with a 5% tariff and in 2020 they will no longer be taxed with this tax, according to information provided by the Chamber of Commerce of Quito (CCQ).
In five years the tariffs of anesthetics, sunglasses and cotton will be eliminated little by little. In the group of relief to seven years are deodorants, additives for cements; to 10 years are vegetables, electric heaters; at 15 years fresh potatoes; and a maximum of 17 years, some varieties of blue and ripe pasta cheeses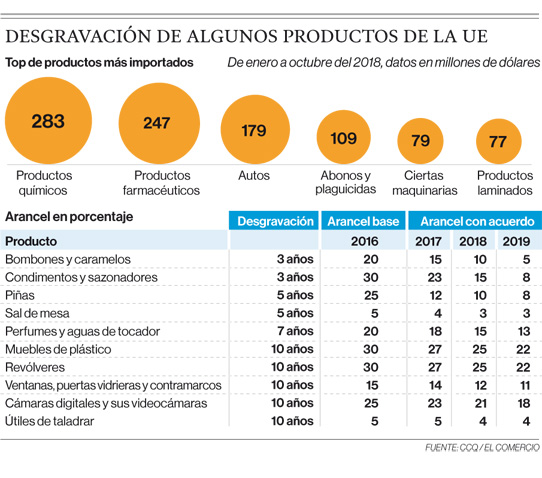 Supermarkets, like Coral, see opportunities to expand their sales thanks to these advantages. The firm said that it works with European companies with the idea that the business grow. Other companies also increased their 'stock' of European inputs.
Sukasa stores, for example, promotes pastry items of Italian origin. The consumer will also see a reduction in car prices as a result of a new tariff reduction. For example, in 4×4 and 4×2 vehicles greater than 1,000 cc and less than or equal to 1,500 cc, the reduction process will last seven years.
The agreement establishes for this good a reduction of five percentage points for each year. That is, by 2024 they will be released from these surcharges. For this year the tariff is already 25%.
The negotiation reduced to zero percent the tariff from the first year of validity to inputs such as insulin, vitamins, ampicillin derivatives, but in bandage or plaster type materials it will take between 5 and 10 years to be eliminated.
Juan Carlos Cassinelli, former Minister of Foreign Trade, assures that the Ingenios Code does not adequately regulate the issue of compulsory licenses for some medicines, with which a European manufacturer, which makes an investigation to generate a product and brings it to Ecuador, does not It is completely protected in terms of intellectual property and that discourages pharmaceutical companies from coming with high-tech products.
Despite these adjustments, which both parties still have to work on, trade between Ecuador and the bloc closed until October 2018 with positive results. David López, technical director of the CCQ, explained that the 2018 total trade with the EU was expected to close with historical figures (imports and exports), since it was expected to exceed USD 6 000 million.
Up to October, USD 1 893 million were imported into non-oil goods; that is to say, 13% more compared to the same months of 2017. However, López pointed out that 80% of those purchases were "capital goods and fundamental inputs for production".
Shipments of non-oil products to the EU grew by 3% in the first 10 months of 2018 and reached a total of USD 2,728 million. Although almost all of the national offer is already free of tariffs, bananas are among the products that continue to be depleted until 2020.
The tariff for fruit is 83 euros per ton this year. Daniel Legarda, executive president of the Ecuadorian Federation of Exporters (Fedexpor), projects 2019 as the strongest year in production for export, thanks to the program called Internationalízate Mipyme, which will give its first fruits.
It is an initiative co-financed by the European Union, which aims to support the development and work of micro, small and medium-sized companies so that, in this way, they can reach that market. (I)
Source: https://www.elcomercio.com/actualidad/negocios-reduccion-aranceles-union-europea.html