Ecuadornews:
The Ecuadorian Rosa Herrera was surprised when she did not accept the dollars she wanted to pay for the food, clothing and toys she bought in a store in Ipiales, Colombia, on January 17, 2019. She was in charge of one of the boxes in the Alkosto warehouse she informed that since the end of 2018 they only receive Colombian pesos or credit or debit cards.
This is one of the largest commercial chains in the neighboring country. Blacksmith remembers that in previous occasions it did not have inconveniences to cancel with the American currency. This measure is related to the operations carried out by officials of the Directorate of Taxes and National Customs (DIAN) to control the origin of the dollars. Infographic: Evolution of the cost of the dollar against the Colombian peso. Source: Bank of the Republic of Colombia This is explained by Luis Martínez, head of the Estrella Express warehouse, another point of sale of products for the home.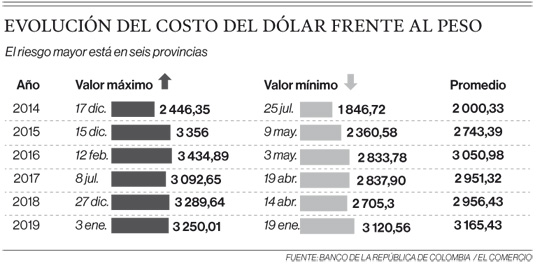 He commented that although commercial transactions in pesos and dollars are allowed, upon receiving the US currency that circulates in Ecuador, the buyer must be subjected to a cumbersome process. This process includes requesting your name, place of origin, activity to which you are dedicated, among other details that must be verified on your identification card and with a form that must be completed.
That is why several shops selling products or services have preferred to simplify the procedures and offer their products only in the Colombian currency. "Sometimes, just for the sale of a soft drink you have to do an investigation that is annoying for buyers and sellers," he says.
This measure also surprised other Ecuadorians who visited stores, restaurants and stores in Ipiales and Pasto this January 2019. These cities of southern Colombia are the favorite destinations of compatriots traveling for shopping. Rosa Herrería had to leave the line and look for a financial entity to exchange dollars for pesos. While his sister Margoth canceled with debit card.
According to a study by the Observatory of the Chamber of Commerce of Ipiales (CCI), until 2018 some 9,000 visitors crossed the International Bridge of Rumichaca between Friday and Sunday. For this entity, Ecuadorians -their main clients-, arrive each time with a currency of greater purchasing power. John Jairo Suárez, head of planning and projects of the CCI, estimates that 75% of customers use a card to make purchases at Ipiales.
He believes that plastic money is safer than carrying cash. In addition, it guarantees a quotation at the official price, while the money changers on the street offer lower figures, according to the daily supply and demand.
For Raúl González, a resident of Ibarra, it is difficult to manage pesos, as he does not know these bills well and can make a mistake when paying. "The commercial sector seeks to offer a comfortable and agile service to our neighbors, who are the engine of our economy," says Martinez.
It even ensures that sometimes the procedures are left aside when they are small amounts. According to DIAN's External Resolution No. 1 of 2018, commercial transactions in Colombia, among residents of that country, should only be made in pesos. This measure includes foreigners who live in that nation for more than six months. While non-residents can conduct transactions in the US currency.
However, it is clarified that the billing must be in that same currency (in dollars). A DIAN official assures that periodic visits are made to commercial establishments. Only in Ipiales there are 12,000 companies registered with the CCI. Of these, 75% are stores and warehouses. When the managers of the commercial premises cannot justify the origin of the foreign money it is retained until they do it. USD 20 000 was confiscated in one of the last operations. Control of foreign currency is not new.
However, in the last months the operatives increased. This measure is one of the recommendations made by the Financial Action Task Force, of which Colombia is cooperating, to combat money laundering and financing of terrorism. This measure brings collateral benefits.
The money changers of the two countries look forward with satisfaction that tourists should change currencies when entering and leaving. On the Ecuadorian side there are 140 and in the Colombian side, 170. One of them is Jaime Yánez, who is dedicated to the exchange of currency in Ipiales. He says that they work with pesos, dollars and euros. They are supervised by the DIAN and the ICC. (I)
Source: https://www.elcomercio.com/actualidad/comercios-ipiales-pasto-dolares-ecuador.html