Below is the president's speech
"From the beginning, this project has been characterized as a peace project. Because it is a project of progress without conditions for dialogue, where the only red line is that there are no red lines for conversation. It is a project that was successful because it was not anti-anything, but because it was pro-development, because it was pro-employment, pro-education, pro-security, pro-peace; That's what made the difference, everything anti has a ceiling and we didn't have that ceiling.
"As I said, we never had a red line for dialogue, but we do have red lines for actions. We will never be in favor of impunity and  we will never be supporting political forces or individuals who want to violate the Constitution. As simple as that.
"I am characterized by speaking little, but thickly. In all my speeches they always give me an eternity of time to speak and I end up finishing it in three or four minutes, so this is not going to be different. The road to the top is full of questions. The entire country knows the number of questions he had since the campaign began. We started with 2.4 percent approval and now I am standing in front of you as President of the Republic.
"The path to the top, the path to the presidency of the Republic also has betrayals, many times there are people that one does not even expect, people that one chooses, but that is life if it is human nature. Today we have to have strength and we have to have unity and also understand that, on the path of the campaign, as well as on the path of the Presidency of the Republic, we are going to touch sensitive fibers of power groups of groups that have been entrenched with corruption. in the State for decades.  There is going to be a reaction, there is also going to be a reaction from criminal organizations that, no, we are not going to support nor are we going to have tolerance for their actions.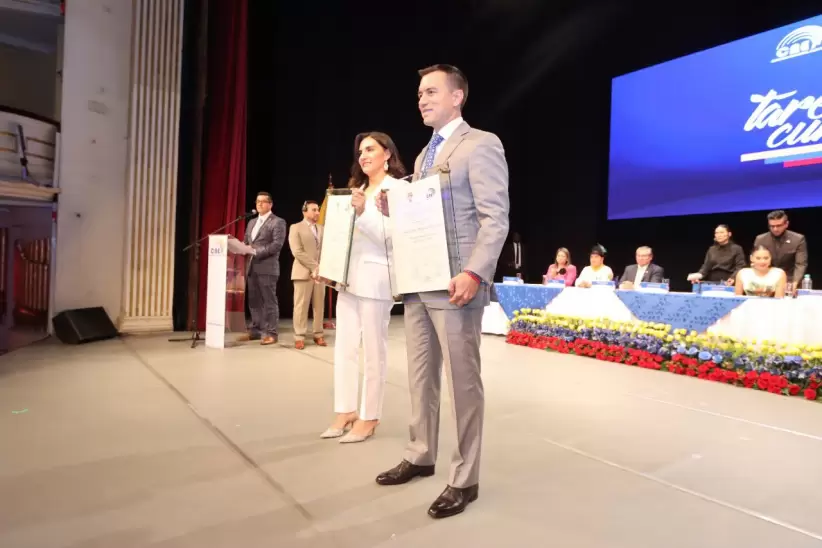 "We have to give an image of light, an image of hope. Not only internally, but towards the world and become a nation that can provide balance, can provide balance in the entire region. I thank the political organizations that, without conditions, simply with a fluid dialogue, have wanted to be part of a great union to move the country forward and support the Executive. Likewise, that there be peace, balance and progress in the Legislature, something that my predecessors, unfortunately, were not able to do.
"There must be zero tolerance for corruption and zero tolerance for people who betray their country by wanting to boycott the work of their president, violating the Constitution. Today I invite everyone, as I did from day one, to continue making history. We have a tough job, it is not going to be easy, we need everyone's cooperation, the cooperation of the GADs… Prefect Paola Pavón is here and I am grateful that she has been here.
"Likewise, from each of the people who make up this diverse but beautiful country. It is time to have courage, it is time to have conviction and it is also time to have the firmness to make decisions, to have the firmness to ignore all the people who want to divert the path towards progress, who want to divert the path of our project, who want to divert Daniel Noboa's path. That firmness, that conviction, which I have inherited from my parents, will always be and it is a firmness and conviction in which, its only reason and its only goal will be the progress of all Ecuadorians, so thank you very much, we have "We have to work hard, may God bless you."
https://www.forbes.com.ec/today/daniel-noboa-azin-proyecto-pro-desarrollo-pro-empleo-pro-educacion-pro-seguro-pro-paz-n43757