Being known as 'the son of …' is something that Daniel Noboa Azín has ruled out since he was a child. Getting that 'nickname' off has not been easy, but at 33 he has succeeded. The provincial assemblyman for Santa Elena answers the questions in The Questionnaire.
Is it true that they know him as 'the handsome one from Santa Elena'?
So much so I don't think. But I was lucky and I have to thank the female vote that made me an assembly member. We are talking about 60%.
They tell me that it comes there and the women touch it to see if it is real.
(Smiles) That already has a bit of a story. The truth is that my message hit and was important for women and I appreciate it.
Was this going into politics out of conviction, or was he somehow induced by his father (Álvaro Noboa)?
I have no love for politics, but the interest and desire to serve others. That is different.
Like many, do you reject politics because of how polluted it is?
When I chat with a group of friends, they all complain about their reality. I ask them: "How many of you want to participate?" and they answer me: "That's not my thing." Each one is immersed in his profession or in his own and for that reason is that we see corruption and rulers who do not convince. People should be part of the change.
Is it true that you became an entrepreneur at age 18?
I started with an event company and had to sell my guitar collection and my PlayStation gear. The first concert I produced was that of Caramelos de Cianuro in 2007. We presented it at the Attica nightclub.
And then he went on to have a perishable food storage company.
So is. At that time I worked for the family company in the logistics part and specialized in food transportation for several years.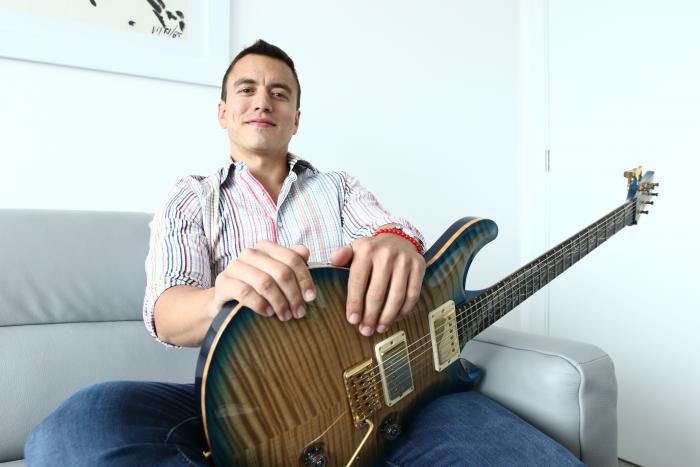 Who would have liked to freeze for life?
Oops… I should make a list, but my grandfather (Luis Noboa Naranjo) comes to mind.
What businesses will you never venture into?
In drug trafficking.
What if we talk about legal businesses?
I would not invest in businesses that I have no knowledge of. The shrimp export attracts my attention, but it is something that I do not know and could lose a lot of money.
And what other things do you prefer to see from afar and not touch?
The personal life of others.
Is it true that you fixate on glasses and dirty surfaces and wipe them off?
I like to have a clean house and see things like that. Yes I am a bit obsessive about it. I don't like to see something stained, out of respect also for the people I receive in my house.
Another of his passions is music. I know he's a music lover and listens from rock to salsa.
Yes and I have played guitar since I was a kid.
Is it true that you exercise with Ozuna's reggaeton?
So is. In addition to Ozuna, Anuel AA and even older people like Tego Calderón.
It goes all the way down, then.
(Laughs) When it touches.
Good for dancing and bad for …
I have a handicap at remembering names, but I am very good at remembering specific times and places. I remember what I ate, what I talked about and where he was sitting.
And what are the things that you prefer to forget or block?
Errors in business, those that cause you anxiety and sadness.
Does it apply personally too?
Yes … You cannot change the past, but you can change the future.
And what has been your balm to heal wounds?
Being active, exercising, working in new businesses, music. It helps to compress certain feelings or emotions.
"I would go back to those places that evoke my childhood and where I spent with my loved ones, like The Hamptons on Long Island, where my grandfather went a lot. I remember my father cleaning, although he is terrible doing it (laughs), and my mother cooking. Imagine seeing my family that has been through so much like this ".
Is it true that you have a weakness for perfumes, to the point that you could have a room for your collection?
(Smiles) Let's say a big drawer.
I have also been told that he is a good tooth and rice cooker …
I totally like casserole and good ceviche.
Who do you envision at this moment as an onion to chop?
To several corrupt.
Has it been difficult being Álvaro Noboa's son?
Like everything, it has its pros and cons. But I can't say I had a terrible childhood and unresolved trauma. Since I was in school, being one has always generated positive and negative reactions towards me.
And to make the load of that backpack more bearable, what did he do?
Getting my own stuff and achieving success on my own is something I've struggled to achieve. I have been competitive since I was young and have been selected for snowboarding and entered Harvard without help from my father. In fact, he found out the day I went to him with two letters: one was my resignation and the other was admission to the university. And so I have been in all my things.
How far would you like to go in your world?
There are no limits for me.
Do you see yourself as a future president of the Republic?
I do not close the possibility, but it is not my immediate wish. I still do not take office as an assemblyman. Let's enjoy this for a little while and help the people of Santa Elena.
With good wine and good pasta, just the way you like it.
So is.
LAVINIA VALBONESI, THE WOMAN WHO MANAGES YOUR LIFE?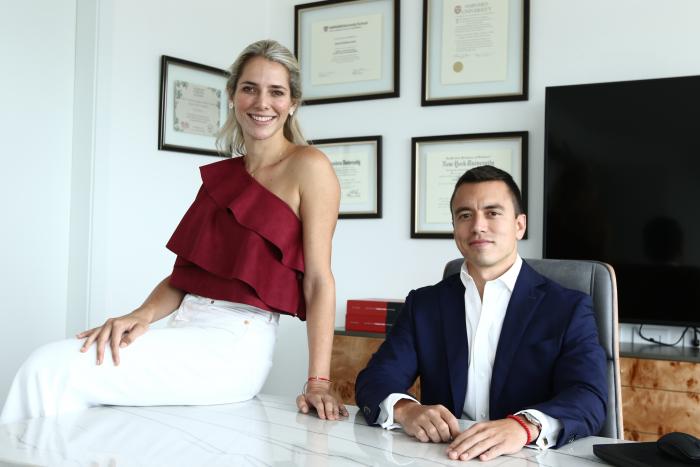 "I don't know," he says with a shy smile when we ask Daniel if the woman who manages his life has been born.
He only limited himself to answering: "For now it seems that he is there, trying to manage, and he has done well." Of course, he refers to the model Lavinia Valbonesi, with whom he has a sentimental relationship of a year and a half.
"I consider myself a winner because I have had more successes than mistakes and that is a balance in my favor."
https://www.expreso.ec/ocio/daniel-noboa-arroz-cazuela-ceviche-100315.html?fbclid=IwAR0mZWVFqRKDnos8Rw4zXu3-ne3Mh4pkBJ5kkPZaUt9xSAioZ4T6IcpRDEg