Ecuadortimes:
Three months after the National Court of Justice eliminated the accumulation of drug penalties, 352 prisoners have been able to reduce their sentences. 71 are now free and 281 are still in prison, because they are still not serving the sentences they received.
How does this scheme work? With the high court's decision, only one drug (the one with the highest weight and purity) is taken into account in order to determine the sentences, and not all the drugs found in the possession of the accused. In addition, the measure applies to those already incarcerated for trafficking in alkaloids.
As a result, many of them filed motions for a review of their sentences. For example, Gladis – arrested in July 2017 with 2 grams of cocaine and 163 grams of cocaine paste – managed to have only the heaviest narcotic taken into account and her jail time was reduced from eight to five years. But he can't get out because he's still three years away.
It's the same with Marcelo. In 2015, the police arrested him with narcotics cases in his pockets. In 2016, the first and second instance courts ordered 13 years in prison for selling three types of drugs (43 grams of cocaine, 166 g of base paste and 4,424 g of marijuana). His lawyer requested that the National Court analyze the ruling. After a hearing, the Criminal Court reduced his sentence to five years. He still has two more to serve.
These data rest with the Public Defender's Office. In fact, Ricardo Morales, the entity's management coordinator, assured that this reform will contribute to reducing prison overcrowding in the country. "It is a way to help in something, to reduce the current prison crisis. The plenary session of the National Court considered that the accumulation of penalties caused "a disproportionate increase in drug crime cases.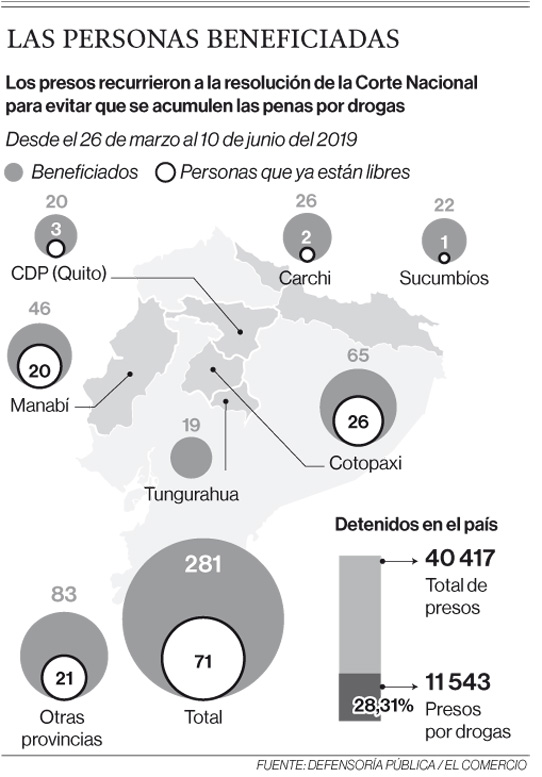 In addition, personnel who recently managed the Rehabilitation Directorate indicated that this measure was one of the causes for an upturn in overcrowding, which currently stands at around 42%. The prisons where the most prisoners were released are Cotopaxi with 26 people, El Rodeo (Manabí) with 20 and Santo Domingo de los Tsáchilas with eight beneficiaries. One of the beneficiaries was Joselyn.
She was released from prison on June 7 because her lawyer requested that she be tried only for the drug with the highest weight of the rest of the narcotics seized. That's how she got her sentence, initially interposed for trafficking two types of alkaloids (23 grams of marijuana and 86 g of cocaine), reduced from 32 to 20 months in prison. She had already paid 21 months and was able to leave prison. Mariela is also free.
In November 2017, in an operation in Quito, the police confiscated 77 grams of marijuana and 5 g of cocaine. A court gave her two substances and sentenced her to two years for drug trafficking. She was held in Cotopaxi. Then, in April of this year, her lawyer asked a judge to take into account only the sentence for marijuana.
The request was accepted and she was released, as she had already been in prison for one year and six months. Harrison Salcedo, a prison lawyer, said high levels of overcrowding are one of the main causes of recent violence in prisons. Therefore, the jurist considers that this decision of the Court "will help to decongest the prisons".
The violence led President Lenín Moreno to decree a state of emergency in the entire rehabilitation system on May 16. Deputy Interior Minister Patricio Pazmino appeared on Wednesday, June 19, 2019 at the Legislature's International Relations Commission and presented a report on the events that took place in the centers.
He confirmed that between January and June of this year 19 violent deaths were reported. Lawyer Salcedo said the high court's decision is "correct and in line with the current prison problem. Official reports show that 28.63% of the prisoners are drug prisoners and are the first prison population. Another person who was detained for this crime and was released is Wilson. His lawyer requested that his client's sentence be reduced.
He paid eight months and since January of this year he has been held in the prison of El Inca, in the north of Quito. A judge reduced his sentence to four months and he was released on May 1. Another of the beneficiaries was Miriam. Last year, agents found two types of drugs in her possession. She was then sentenced by a court to two years in Cotopaxi.
Her lawyer requested that her defendant be tried for only one type of narcotic. A judge analyzed the case and after a court hearing reduced her sentence to one year. She had already been held for one year and three months. For this reason, the magistrate issued a release ballot and was released. (I)
Source: https://www.elcomercio.com/actualidad/resolucion-corte-beneficio-detenidos-drogas.html