Shrimp faces a new current. The coronavirus that in March strongly threatened this industry with the paralysis of shipments to China (its main market), did not achieve its purpose but did cause revenue to slow down, even with higher export volumes. In that period, according to data from the National Aquaculture Chamber (CNA) , they managed to sell $ 907.6 million, 12% more compared to the same period last year.
In the current context, the result could be positive, but in the opinion of José Antonio Camposano, president of the CNA, it is not if it is taken into account that higher currencies were expected in that period, due to the great efforts made by the sector. to export more product. " That 12% more turnover required the sector to sell 20% more in volume. And if we apply the average, that increase really corresponds to sales in January and February because in March exports fell. If we had not had that volume, the billing would have been 5 or 7% less, "he said.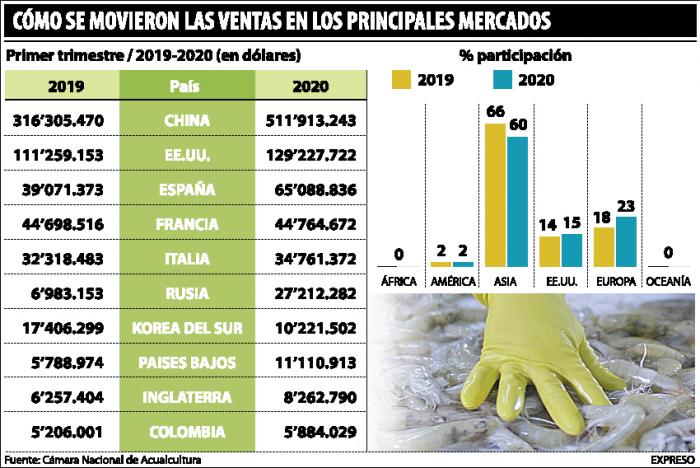 The direct effects are observed in the statistics of the Asian market. In that region, sales barely grew by 1%, well below the 33% achieved until March of last year.
In February and early March , China decreased its purchases due to the high stocks it registered after suspending the celebration of the Chinese New Year. In exchange, exporters had to react by sending more product to the United States and European countries, before they began to confine themselves and close their ports.
For Camposano, April will be more critical. Although China started a recovery process this month, the North American country and the European bloc have stopped serving as sales ventures. This scenario, aggravated by the internal restrictions of operation that exist in the country, he points out, could cause sales to drop by up to 45% . "We are talking about a £ 40m and $ 100m drop. If we average that at four months, I already have a semester that will possibly be billing at least 5% less than last year, despite sending 10% more in volume. "
The gradual recovery of international markets is not a guarantee factor of sales for the aquaculture industry.
Generally, the crustacean is sold through two channels: 50% go to supermarkets, the other half goes to companies that provide restaurant or catering services.
According to estimates, this last segment is the one that will continue to decline for the next few months, and which will make the recovery slow. Not all restaurants will work and those who resume their activities, due to sanitary controls, will not be able to do so at 100% of their capacity. To this must be added the drop in consumption in economies such as the United States, which will be affected by low incomes and unemployment.
https://www.expreso.ec/actualidad/economia/camaron-detiene-ventas-desacelera-10243.html