Since March 13, Ecuador joins the policies related to the mobility of foreigners that are already being implemented in four other countries in the region as a preventive measure to control the spread of the new coronavirus.
Colombia, which until the closing of this note registered only nine cases, already places a mandatory quarantine of 14 days on any traveler arriving from Spain, Italy, France and China and the authorities have recommended tourists not to travel to the country if not They have money to pay for a hotel stay for the duration of the isolation. Peru, with 22 infected people, will also send people arriving from any European country and from China to the home.
Guatemala, which has no confirmed cases yet, takes these measures only with travelers arriving from the European continent.
Argentina, with 21 infected, announced the quarantine to foreigners from Italy, Spain, Germany, China, South Korea, Japan and Iran. However, at night the president of Alberto Fernández decreed a health emergency, which, among other measures, will lead to the suspension for 30 days of international flights from Europe and the United States, South Korea, China, Iran and Japan.
Chile will isolate only those arriving from Spain and Italy.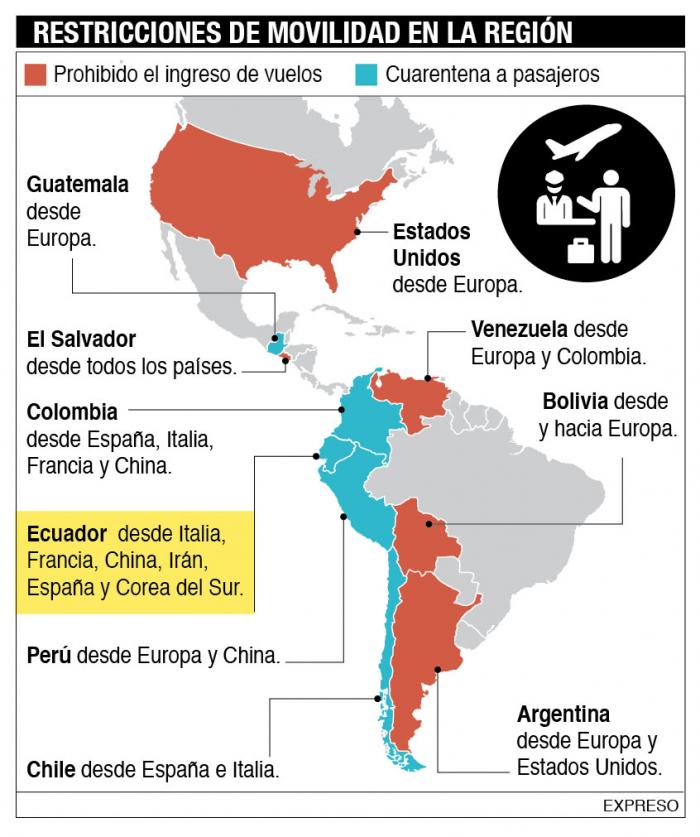 Bolivia, Venezuela and the United States took more restrictive measures, since they are suspending the entry of flights from all European countries. Venezuela adds to its neighbor Colombia and Bolivia announced that, temporarily, no plane will leave the country to the Old Continent.
El Salvador, despite having no positive case, decided to restrict the arrival of all foreigners from all over the world, with the exception of permanent residents and diplomats for the next 21 days. The decision was made in past days by the nation's president, Nayib Bukele. The president declared the entire country in quarantine as a preventive measure and does not rule out that his country will not register a case "in the next few hours."
Before the declaration, 56 people were in mandatory quarantine: 32 Salvadorans and 4 foreigners who arrived in the Central American country from Spain on the night of Tuesday, March 10.
The other countries in the region, despite making emergency declarations, have not yet announced similar measures.
https://www.expreso.ec/actualidad/coronavirus-ecuador-alinea-medidas-paises-region-6856.html