Ecuadornews:
The price of intermediate oil of Texas (WTI), which serves as a reference for Ecuadorian crude oil, rose on Monday April 1, 2019 by 2.4% and closed at USD 61.59 a barrel. This figure is the highest since November 2018, when it reached USD 56.75.
Then, in December 2018, the average price of the barrel registered a fall, up to USD 49.52, according to data from the Central Bank of Ecuador. But in the first months of this year, this situation has improved.
Yesterday, the recovery of the price of this raw material was explained, according to the EFE agency, by the March data of China's manufacturing sector, which unexpectedly grew for the first time in four months.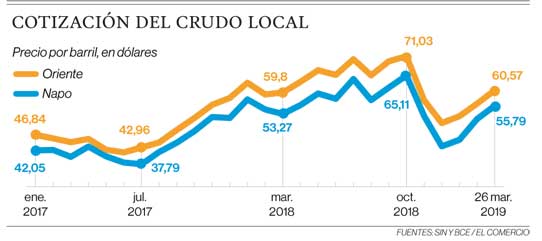 US manufacturing data
They were also better than expected. The United States and China also reported that they are making progress in the trade negotiations, whose last round ended last Friday, as they try to end their tariff war. This scenario presses into a greater demand for oil in the market.
Other events that affected the price increase of this hydrocarbon are the oil production cuts of the Organization of Petroleum Exporting Countries (OPEC). This block resolved to maintain the measure of stopping pumping 1.2 million barrels of oil per day. It is planned that the evaluation of this measure will be analyzed next June.
However, yesterday it was known about a possible extension of this strategy. Iranian Oil Minister Biyan Zanganeh was optimistic yesterday regarding a possible extension of the agreement to reduce crude production between OPEC members and non-OPEC members.
Apart from this strategy, the supply of oil in the market has been reduced because Venezuela's supply has fallen further due to sanctions and power cuts. On average, this country produced around 2.5 million barrels of crude oil per day and currently pumps around one million.
For Xavier Orellana, economic analyst, these recent events have made the price of Ecuadorian oil recover and reduce the punishment (lower cost) that had this raw material. For example, on March 26, while the price of WTI was 59.94, the estimated value of Ecuadorian crude was USD 59.88, according to the public company Petroecuador.
This happens, because in the market there is a greater demand for heavy oil, which is produced by Ecuador and Venezuela. This raw material is used in the mixture used in refineries in the Gulf of Mexico area, in the USA.
Orellana estimated that this improvement in prices will continue due to the demand that will be in the northern hemisphere during the summer season. This contributes to Ecuador having higher income than the estimated ones. "For Finance, each additional dollar over the price set in the Budget will represent around USD 800 million," said Orellana. The local crude price for February and March already exceeds USD 50.05 per barrel in the Budget. (I)
Source: https://www.elcomercio.com/actualidad/precio-crudo-recuperacion-produccion-opep.html