For many years Pascuale Mastricci -Comaco- was a verb and not a noun (as the Guatemalan singer Ricardo Arjona would say ) in Ecuador's banana business in the Mediterranean. Although now its weight is not the same as before, this does show the importance of Italy for Ecuadorian fruit.
Mastricci has bought many, from Reybanpac , through Luis Fernando Rivadeneira, Gonzalo Escobar (Le Fruit) and Probana, and also to Colombian exporters.
Today the situation could be even worse for the country in the Mediterranean market, a large trench in Ecuador until the last decade, from where it conquered the countries of what was called the Iron Curtain and its surroundings.
Before the coronavirus crisis, many of the 17.5 million boxes of bananas that Ecuador placed in 2019 in Ukraine, Georgia, Albania, Kazakhstan, Uzbekistan, Montenegro, Kyrgyzstan, Azerbaijan were going through the italic boot.
EXPRESO confirmed with exporters that ships are arriving in those countries, which represent 4.91% of Ecuador's banana sales, through the Black Sea.
Even through the Italian ports, the banana that goes to southern Germany is landed, where there is another great buyer: Anton Dübeck, owner of the Excelbán brand.
Turkey also has problems with cargo, many containers that went to Muslim countries, such as Iran or Iraq, are dammed there.
As a block, Medio Orient e became the third largest destination for banana exports, with a 14.86% share, according to data from the Banana Marketing and Export Association (Acorbanec). 53.05 million boxes were exported in 2019, 9.21% more.
The increase has occurred precisely to Turkey (52.38%), Iraq (6.32%), United Arab Emirates (4.21%), Oman (44.52%), Jordan (21.56%) and Qatar (14.56%). There are significant reductions to Saudi Arabia (-20.29%), Kuwait (-4.76%) mostly supplied by the Philippines; and also to Iran (-43.99%) as a result of the economic blockade of the United States. This Middle East market with East Asia has absorbed fruit that has not been placed in the European Union (EU).
It is that right in the EU Ecuador has problems in Italy and Germany, where sales, before the coronavirus crisis, had fallen (almost 50% in Italy) and 25.73 percent in Germany.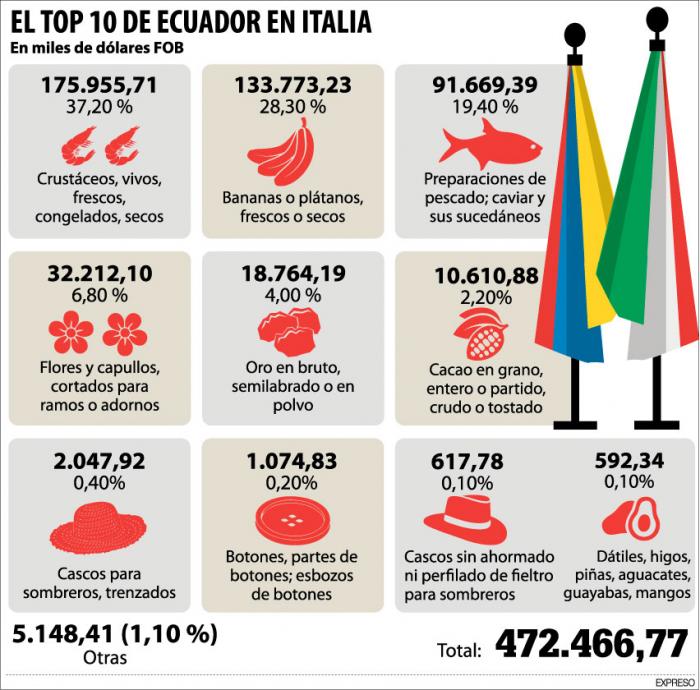 THE GREAT ROUTE TO THE EAST. A great route Banana's entry into the Mediterranean Sea allowed Ecuador decades ago to enter other niches in Eastern Europe.
EASTERN ASIA. It is important to highlight banana exports to East Asia from January to December 2019, which stood at 29.42 million boxes, where there is an increase of 37.82% compared to the same period of 2018, because China and Japan bought more bananas.
CHINA AND JAPAN . In the case of China – according to Acorbanec – the increase was 63.99% and in Japan 9.26% (despite the 20% tariff paid by bananas); however, there is a reduction of 20.51% in South Korea. The coronavirus crisis in those markets will be reflected in this month. There are few containers available.
OTHER PRODUCTS Crustaceans, alive, fresh, frozen, dried; banana or bananas; and fish preparations last year accounted for 84.9% of Ecuadorian exports to Italy, according to statistics from the Central Bank of Ecuador. Between flowers and raw gold they exceed 10%.
https://www.expreso.ec/actualidad/economia/banano-italia-gran-puerta-ingreso-europa-entra-panico-6509.html