Yesterday the new draft of the access channel to the public and private port terminals of Guayaquil , between 12.5 and 13 meters of draft, was made official.
The Esplanade, a megabuque brought by CMG-CGM, was the first of great magnitude to navigate and reach the Guayaquil Port Terminal (TPG) with the deepened channel. He toured the ports of Manzanillo, in Mexico; Buenaventura, from Colombia, and Callao from Peru, before docking in Guayaquil.
Captain Enrique Gallardo and two other practitioners were those who sailed on the Esplanade along the canal, 93 kilometers long. This ship has a total capacity of 13,892 containers (TEU'S) and a draft of 14.2 meters, explained the president of the Maritime Chamber, Javier Moreira , who represents CMA-CGM.
He did not come completely full to Ecuador, but he picked up cargo in the two previous ports, because he can now get to Ecuador more fully.
Mayor Cynthia Viteri said that this work should be complemented with the South Bridge. The Minister of Public Works , Gabriel Martínez , has set a period of 2 months for the national government to find a partner to build it. If this is not the case, the Municipality will insist that the competition be delivered to do so. "The work costs about 700 million," said Viteri, after assuring that he has "several stakeholders."
The city's former mayor, Jaime Nebot , who began the battle against former president Rafael Correa to deepen the canal and remove the rock from Los Goles, said that this work represents a historic milestone not only for Guayaquil, but for Ecuador. The Correa government planned to leave the local port for cabotage and tourism.
Sergio Murillo, president of the Association of Private Port Terminals, noted that Guayaquil now has a capacity to transfer 5 million containers, more than double what is used today. This covers the capacity for the next 20 or 25 years.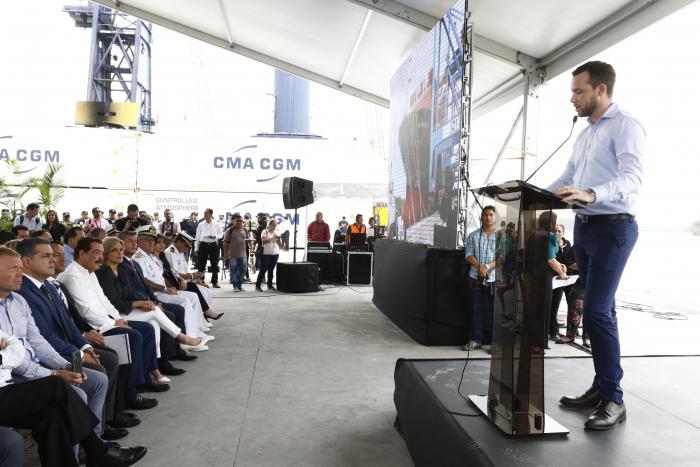 PORTS ALSO DRAG . The Canal de Guayaquil company, a subsidiary of the Belgian company Jan De Nul, not only deepened and must maintain the channel at the indicated depth.
The company, the most important in the world in this type of works, also dredged the docking fronts of the private and state terminals (Libertador Bolívar), as well as the DP World Posorja, Manta and Puerto Bolívar canal.
"From the beginning we considered it a great challenge, but we set a goal, we set our own challenge: to complete the deepening in less than 1 year instead of the two-year period," said Dominic de Prins , principal of the Canal de Guayaquil (CGU).
We deployed a high-power cutting dredger (to eliminate the Goals ) and 4 suction dredgers to deepen the rest of the canal in 9 months instead of the 2 years required in the tender, he added.
https://www.expreso.ec/actualidad/economia/puerto-megabuque-inaugura-gran-canal-3566.html