The balance, which remains from the subtraction of sales and purchases that the country made to the world, responds to the fall that imports had last year ($ 21,509 million) compared to exports ($ 22,329 million). In the case of purchases, the decrease was 2.7%, a fact that for Alberto Acosta Burneo, economist and editor of the magazine Weekly Analysis, speaks of the strong economic stagnation.
It is wrong to think that a positive trade balance reflects a positive situation
The figures of the Central Bank of Ecuador (ECB) indicate that of the total purchases, the acquisition of raw material, by companies, totaled $ 6,940 million, 7.3% less if compared to 2018. A result which, for Acosta, intuits the lowest industrial production that there was last year.
The presumption is something that is confirmed in the Chamber of Industries and Production . Pablo Jiménez, economic director of the union, explains that the acquisition of inputs will always be tied to the pace of demand. But in a context of instability, remember, it was affected, thus impacting production. A factor that resulted in the loss of sales and employment within the manufacturing sector.
From January to November of last year, Jiménez maintains, at a national level the sector came to bill $ 22,848 million , a fall of 4.6%; that is, $ 1,093 million less than in the same period of the previous year. In the workplace, however, 20,000 people lost their jobs.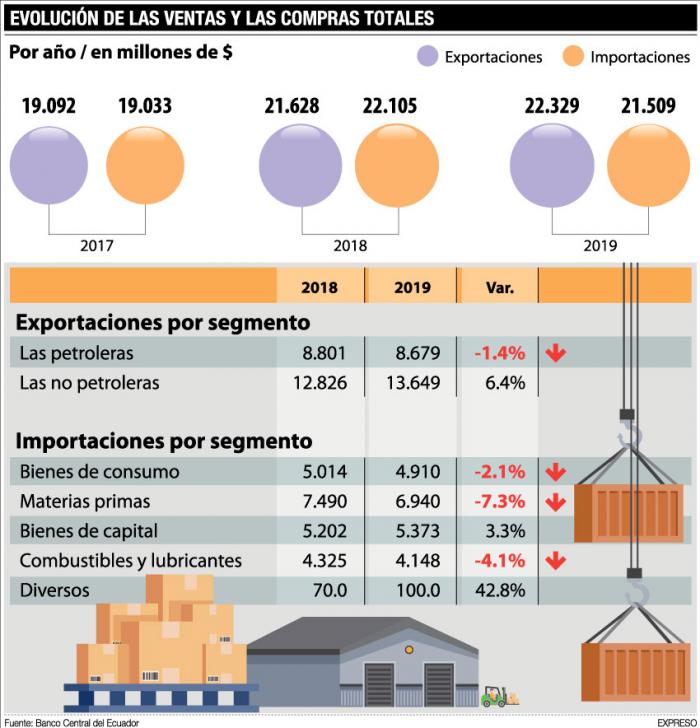 Among imports, raw materials were the item with the greatest decrease, followed by the importation of fuels and lubricants (-4.1%) and consumer goods (-2.1%), inputs that usually also inject a economic dynamism in the market.
With lower imports, experts say, it was clear that the balance would be relieved, but under circumstances that are not positive for the economy. If exports are observed, they grew by 3.2% due to the better performance of non-oil sales, but mainly due to a 22% rise in shrimp revenues ($ 3,890 million).
If that product is subtracted, Acosta says, revenue goes to negative ground. According to ECB figures, banana sales also grew, but only 2.5% ($ 3,295 million). The rest of the products closed with losses.
Cocoa fell -3.0% after closing at $ 763 million. In importance it was followed by canned fish (-3.6%) and metal manufactures (-12.9 percent).
https://www.expreso.ec/actualidad/economia/industria-local-sacrifica-compra-materia-prima-5239.html