In recent years, Asians have been granting a primordial space to the Ecuadorian shrimp. In 2019, it was no exception. Of the $ 3,652 million that the country sold last year, 67% was sued by Asia, a share that grew five percentage points more than in 2018.
The shipping gap continues to widen with the markets where this crustacean is traditionally exported. Last year, 12% went to the United States , while 19% went to Europe , a share that is below 14% and 22% that they had the previous year.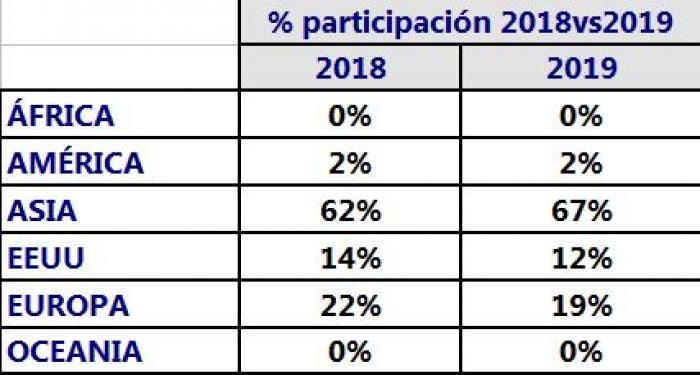 However, in the Asian market Ecuador has a powerful partner: China. According to figures from the National Chamber of Aquaculture (CNA) , the country's increase in sales (14% more until December last year) responds, in part, to a greater demand from Chinese buyers. Of the $ 2,407 million sold to Asia, $ 1,986 million were acquired by the Asian giant, 225% more than in 2018.
The increase was maintained despite the inconveniences that the Ecuadorian shrimp had until the end of last year. In mid-September, China decided to apply temporary suspensions to the imports of the plants of four of the most important exporters in the country. This after detecting in the shipments a certain index of shrimp diseases, something that was denied from the Ecuadorian side. On November 27, the measure was suspended.

After China, another important market is Vietnam , where $ 333 million was allocated; however, sales in that market last year fell 73%. Similar behavior was in countries such as South Korea and Japan, where purchases decreased by 9% and 10%, respectively.
Already outside of Asia, general sales were also motivated by higher consumption in the countries of the American continent. Countries like Brazil, Guatemala and Paraguay are demanding more product.
https://www.expreso.ec/actualidad/economia/camaron-local-consolida-hegemonia-mercado-asiatico-3816.html