It can be said that the sucre died twice . The first: with the beginning of dollarization, on January 9, 2000. And the second, with the failure of the Unitary System of Regional Compensation (Sucre): a project of the Bolivarian countries that sought to become a regional currency.
In 20 years of Ecuadorian dollarization there have been initiatives to replace the US green currency or reduce its use, but have not been successful.
The sucre was born within the Bolivarian Alliance for the Peoples of Our America (ALBA) and was a payment mechanism for international trade that aimed to replace the dollar and become a regional currency like the euro, said Carlos de La Torre, one of the ideologues of the proposal and former Minister of Finance.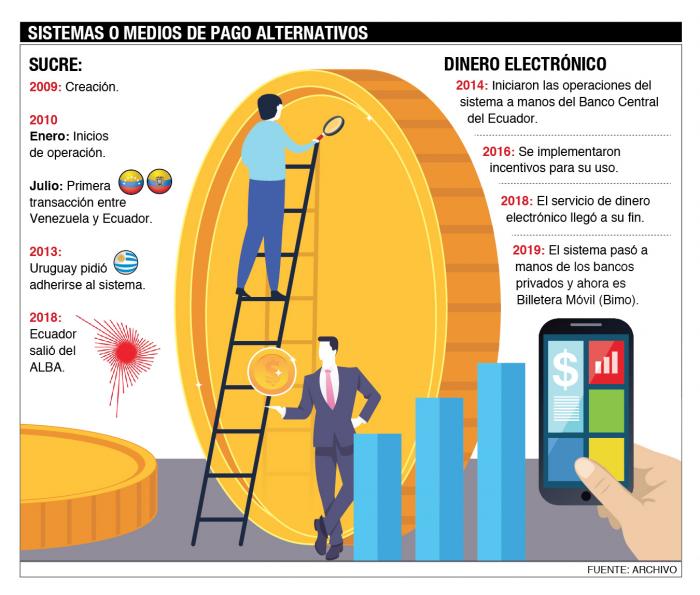 The year in which more transactions were carried out with sucres, among those who promoted this scheme (Venezuela, Bolivia, Nicaragua, Cuba and Ecuador, with Uruguay as an observer) was in 2012 (in full boom of raw materials), when executing 2,646 foreign trade transactions for $ 1,070 million.
In the case of Ecuador there were operations for $ 910 million and most transfers were made with Venezuela.
However, the system ceased to be used with the collapse of the price of oil and the dismantling of regional blocs , made up of countries whose political current was the so-called 21st century socialism. For example, Ecuador left ALBA in 2018.
Doors inside, the previous government sought to boost the use of electronic money, which began operating in 2014. Both the sucre and electronic money sought to solve the problem of "shortage of dollars," says De la Torre. That is, it is expensive for the Central Bank of Ecuador to keep physical dollars in the economy.
According to Ramiro Crespo, president of Analytica Securities , when correísmo sought to implement electronic money, dollarization went through one of the most complex moments. For the analyst, there was the risk of an inorganic issue, that is, that the government creates electronic dollars without the backing of physical bills.
https://www.expreso.ec/actualidad/economia/2-intentos-fallidos-destronar-dolar-2855.html